Rotary & The Algonquin Regiment Waterfront Trail
An accessible 3.3km trail on the Town of Parry Sound's shoreline.
The Rotary & the Algonquin Regiment Waterfront Trail, or "Fitness Trail", winds its way along the shoreline of Parry Sound. The trail provides stunning views of Georgian Bay and offers great vantage points to watch the sunset. There are two beaches along the way, playgrounds, and many picnic areas. The trail provides stunning views of Georgian Bay and is an experience in Parry Sound you can't miss!
The Waterfront Trail began life as a rail spur line for the CN and CP railroads. This spur line moved lumber, coal and later oil to the large tanks located around the inner harbour. The spur line was last used in 1984 and the oil tanks were demolished. The railway's right of way was rehabilitated to make the current trail.
The combination of shoreline and trees offers good opportunities to observe a variety of birds including warblers, swallows, gulls and terns. Occasionally, bald eagles are sighted from the trail.
PLEASE NOTE:  Trailheads are found at Champagne Street near the Parry Harbour and at the Salt Docks on Marion Avenue. Parking is also available at the Waubuno Town Beach.
---
Species at Risk in the Spotlight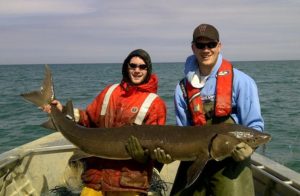 Prehistoric looking lake sturgeon are still found in the Big Sound and are occasionally spotted near the mouth of the Seguin River. Learn more about this threatened species– Lake Sturgeon
Please report sightings of species at risk.
---
Plan Your visit
Explore the amazing place with help from local businesses.