It is almost officially winter and that means it is time to start getting excited about winter adventures, if you aren't already! The Georgian Bay Biosphere contains more than 300km worth of trails of Amazing Places alone, so enjoy the iconic rugged wilderness while hiking, skiing, snowshoeing, or fat biking this season!
For those looking for social and educational experiences outdoors, follow our Facebook page (@GBayBiosphere) or visit gbbr.ca/events/ to stay updated with latest information regarding Biosphere Walks: GBBR guided hikes within Amazing Places and other trails within the biosphere region. There will be several of these scheduled for winter 2020! There is also one more Biosphere Walk scheduled for 2019, on December 30th at the Humphrey Nature Trails, where guides will talk about how plants and wildlife survive the winter!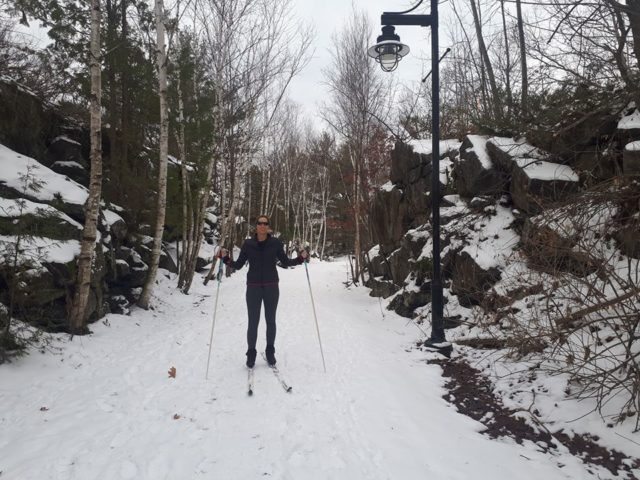 Explore the Waterfront Trail as it twists along the iconic Parry Sound shoreline for 3.3km, an excellent way to experience the charming town! Cross country ski through the "Jewel of the 30,000 Islands", stopping into shops and restaurants to warm up, and experience local art, fashion, and food. Why ski? It is excellent for cardio-vascular health and for muscle groups all over your body (shoulders, triceps, core and legs!). An added bonus is that since it is a low impact activity, it doesn't put much pressure on joints, making it a great option for staying in shape with a low risk of injury. The first Biosphere Walk of 2020 will also take place on this trail: on Tuesday the 11th at 10:00am learn about the aquatic life of Georgian Bay!
And of course, there is an abundance of trails to ski at Georgian Nordic Outdoor Activity Centre. The Burrow is now officially open, which means you can rent skis and snowshoes to enjoy the 30+km of trails. Follow GNOAC's Facebook page, @GeorgianNordic to stay in the loop for events they run, including the extremely popular Women on Skis on January 26th, 2020. Register before it sells out, as it has in previous years! Fat biking is also popular at this outdoor club, and it's easy to see why: not only do these bikes allow you to ride regardless of the weather, but fat biking in the snow is great for building muscular endurance; with the fat tires and heavier equipment there is more drag on the tires and more energy is required to turn the pedals. On February 1st, the ski club will host a fat bike race (Fat Bike Series 2020 45NRTH-Cannondale) followed by an after-party at Trestle Brewing Company for prizes, food and drinks!
Not only are the views of the Sound impressive from the Tower Hill Lookout, but there are also several events to check out at the Museum on Tower Hill. Coming up this Saturday on December 21st is a Winter Craft Workshop, and the Artisan's Christmas exhibition is also on display until this date, so check it out before it ends! The Museum will be celebrating the New Year with their annual What's New exhibition. The first full moon of the New Year (and new decade!) will occur on January 10th. Bring your warm clothes, a thermos of hot chocolate and a flashlight and marvel at it from the highest point in town!
The Rose Point Trail in Seguin, part of the larger Park to Park Trail, and the School House Trail in Port Severn, are also great spots to ski, snowshoe, or fat bike, so pick your preferred mode of transportation and explore the trails! Another spot to snowshoe is the Recollet Falls Trail, which is 2.7km and a great path to explore to take in the sights of the French River Gorge. The terrain can be a bit difficult at certain spots, so bring a buddy and take your time enjoying the scenery. Reasons to snowshoe: it provides the same aerobic workout that you get from running or hiking, but you actually burn more calories snowshoeing since you lift your legs higher. And since your body works harder to keep you warm in the winter, you burn even more calories.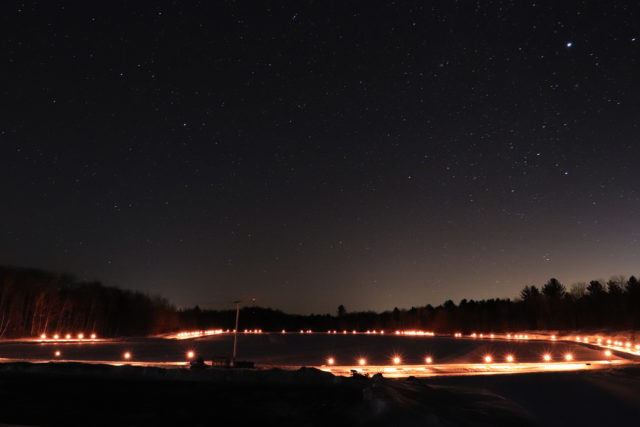 Muskoka Lakes Farm & Winery alone has enough winter attractions to keep the whole family entertained all season long. Skate the 1.2km loop around the cranberry bog (scheduled to open December 27th -weather permitting!), which gets lit up with 400 tiki torches on Saturday nights! There are also giant ice surfaces designated for bog hockey, and more than 10km of snowshoeing trails! For the foodies out there, check out their delicious winter menu featuring "local food with cranberry flair" (cheese plates, chili, and hot mulled wine? Yes, please!).
Visit the cranberry farm to experience the magic this winter! Photo by Muskoka Lakes Farm & Winery.
Enjoy your winter adventures, and share them with us by adding #AmazingGBay to your posts!
Written by Emara Streich, Eco-Tourism Coordinator, GBBR